Yesterday, we met one of our favorite authors. My eldest and I have read and loved every one of his books. The books are difficult to describe because they cross multiple genres. Fantasy, mystery, adventure, humor, lots of literary allusions, just plain imaginative fun. Nothing graphic, either - I know that matters to many of my readers, as it does me. So you can imagine how excited we were to go hear Jasper Fforde in person. He's on a book tour, talking about writing, reading excerpts, and signing books.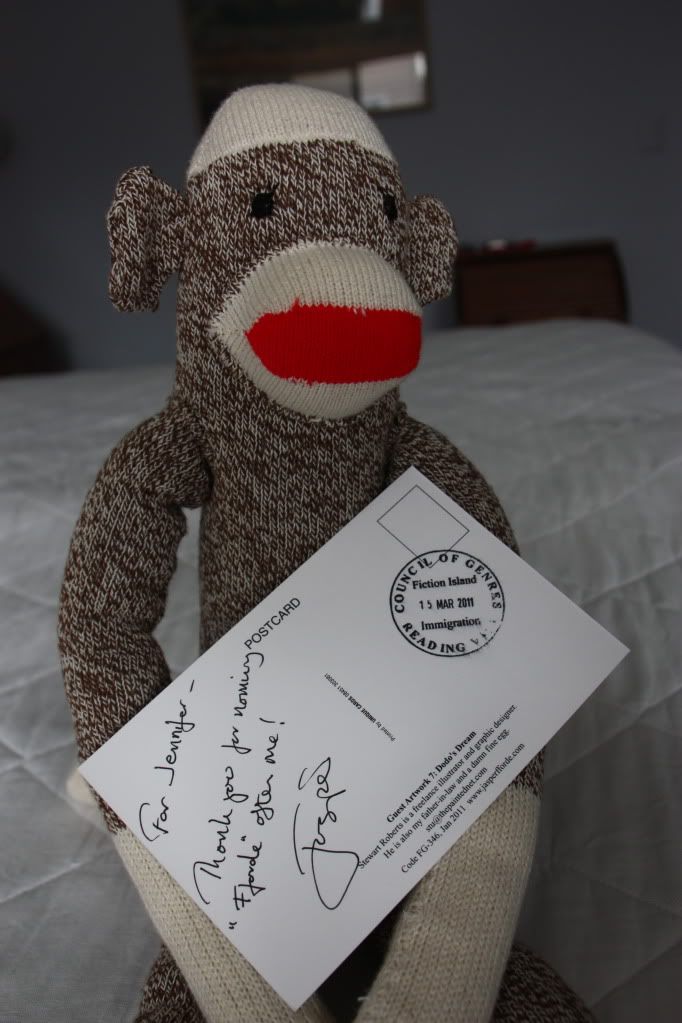 Two autumns ago, when I made my son a sock monkey, I named him after Jasper Fforde. So I took Fforde (the monkey likes to go by his last name) with us, hoping for a photo op. Being a good sport, he not only posed with his namesake, he even wrote a little note for us.
We really enjoyed listening to Jasper Fforde, the author, talk about his books and his writing process. It took him 13 years to get a book published, but we are so glad he persevered! I loved how he responded to his earlier lack of success. He said that it was freeing, in a way, to not get published, because it allowed him to write only for himself, and to be as ridiculous and random as he pleased. It was the first of those totally absurd books that found a publisher - The Eyre Affair.
He is currently writing two books a year, and we'll certainly be reading them.