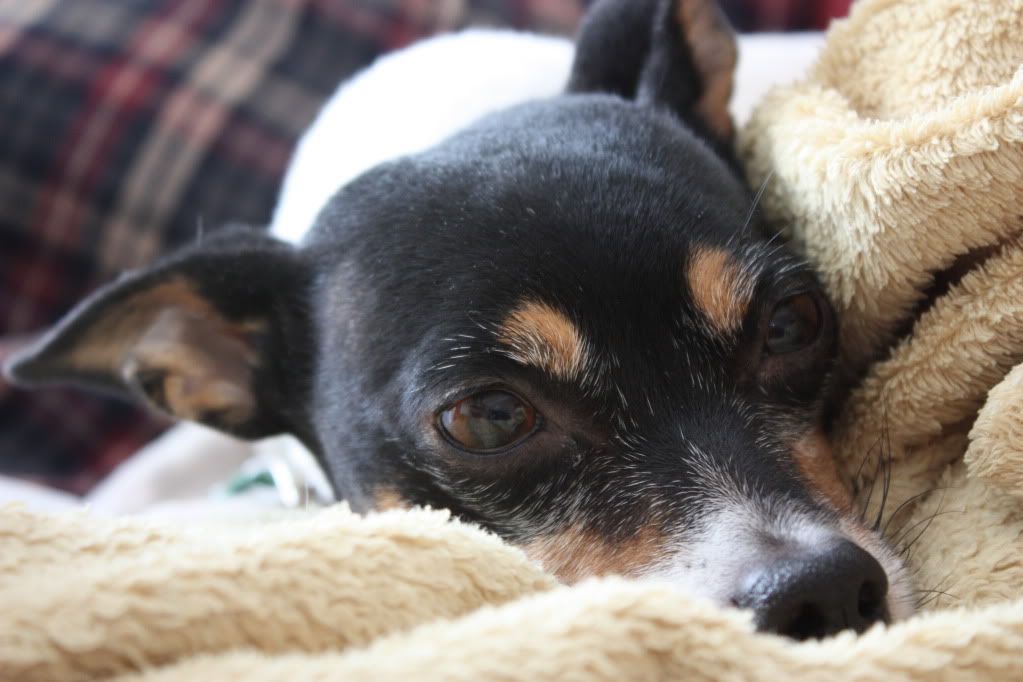 Six weeks ago Trixie started chemo for mast cell cancer. Today was the final dose. The chemo has had no affect on the tumor. In fact, it looks a little bigger now than it did six weeks ago.
She was seen by the doctor at the three week point, and it was a rough visit for Trixie. All vet appointments are. She is small and has no extra body fat, so every needle prick hurts for a day or so, and the blood draw at that last visit caused significant bruising and soreness that lasted days. That contributed to our decision not to try stronger chemo drugs, which would have required weekly blood draws and exams, and at most would have added a couple months to her life.
We just couldn't put our sweet little Trixie through that misery. Right now, she is still a very happy little dog. We are continuing with the prednisone, a steroid, which should minimize the gastrointestinal distress that is caused by this type of cancer. That does not require blood tests and doctor visits.
Behaviorally, we do see a few changes in Trixie. She has less energy than she used to have, but she was hyper before, so "less energy" does not equate with lethargic by any means. For example, she will not follow me upstairs every time; she will wait for me at the bottom of the stairs when she thinks I'll be right back down. She still enjoys a good walk, but afterward she naps instead of running all over the house. She wants more comforting, more petting, more physical attention than before, so whereas she used to lay on the sofa with me while I read, now she prefers to have me petting her or resting my hand on her while I read.
Thank you to all of you have been praying for my little Trix and asking about her. I so appreciate both.