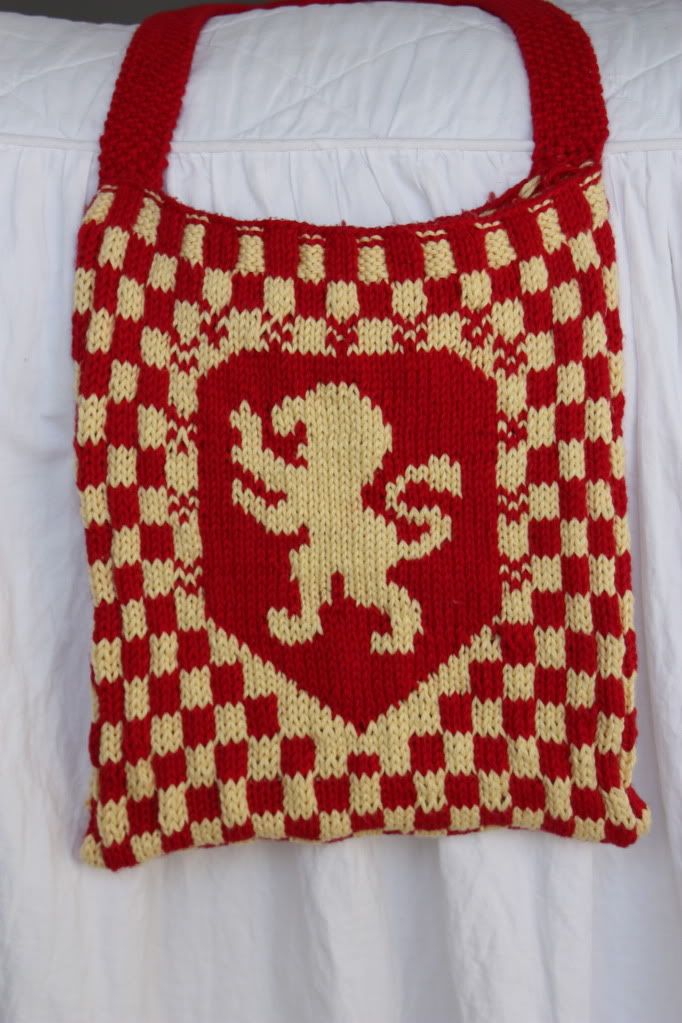 My niece loves the Harry Potter books, which my sister reads aloud to her, and she loves to play out the stories and create her own. We played this quite a bit last summer. She is always her favorite character, Luna Lovegood. (I chose Mrs. Weasley.)
She told me that when she is eleven (she will be seven later this year), she just knows she'll be sorted into ____, because she is smart. (She is.)
That is what I remembered. I remembered playing lots of HP, that Luna is her favorite character, and that particular sentence, excepting the name of the house. I filled in the blank with Gryffindor, and proceeded to knit a bag for her birthday gift, imagining the fun it would add to her games.
I was about 3/4 done, and asked my husband for ideas of things to put in the bag, things related to Luna or Gryffindor.
"Luna was in Ravenclaw," was his response.
Oops! LOL All I could do was laugh at myself. I finished the bag anyway, though I left off some of the details. I'll be starting a Ravenclaw bag soon.
The pattern for this was free, available on Ravelry, named
HP House Fair Isle Bag
. I knit it in Hobby Lobby's I Love This Cotton. After I knit the Ravenclaw bag, I'll be lining both of them. Having knit this one, I've decided to go down a needle size for the next, to get a denser fabric. I'll also be using a
chevron chart a friend designed
, rather than the checkerboard.