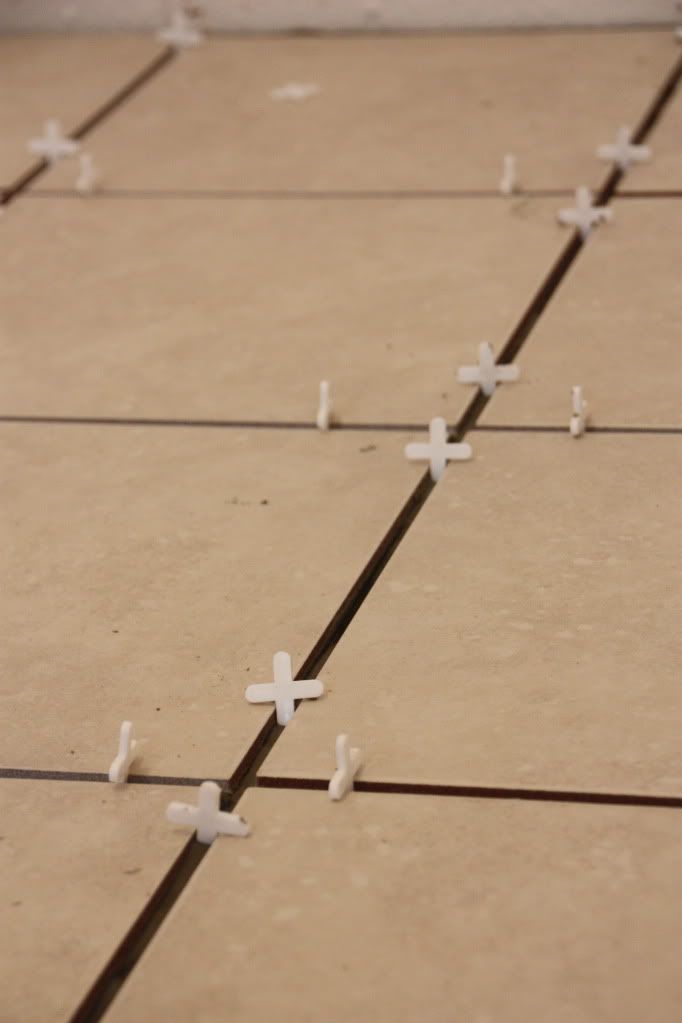 We are doing some work around the house this autumn. By we, I mean that I come up with ideas, and my husband does the hard work. I do things like troll blogdom looking at beautiful rooms and pinning them on Pinterest. He does things like knock down walls and tile floors.
This is the new tile floor in our laundry room. I did not take before photos, but I might have some old ones on another computer. I'll have to look for them. The laundry room is also the pass through room from the garage and was the pantry for the kitchen. It had a small closet which I'd always back into when opening the washer, and built in open shelves which were visible from the family room. The door has glass, so whatever is in that room is seen. Not surprisingly, looking at one's canned goods and boxes of cereal and goldfish crackers grows tiresome after eight years.
My husband knocked out the closet and the shelving, and we hired someone to repair the drywall. We don't own the equipment to do the orange peel texture that is everywhere in Colorado. (I hate textured walls.) Then we painted. (I did most of the walls, but he did the hard part - the ceiling.) Now he is laying tiles. I bring him Diet Dr. Pepper and admire his work.
Inexplicably, I could not find what I really wanted anywhere: plain white tile. We went to several tile stores as well as the big box stores. No white tile. Lots of dark earth tones. I chose this one because it was not hideous, not too dark, and was the least expensive tile around - under 60 cents a square foot. Home Depot, in case you were wondering.
That is it for the sneak peak. Tomorrow he grouts. The makeover will not be complete for several weeks, maybe two months, because we are combining purchases with the other fall project - the big one - the basement family room.