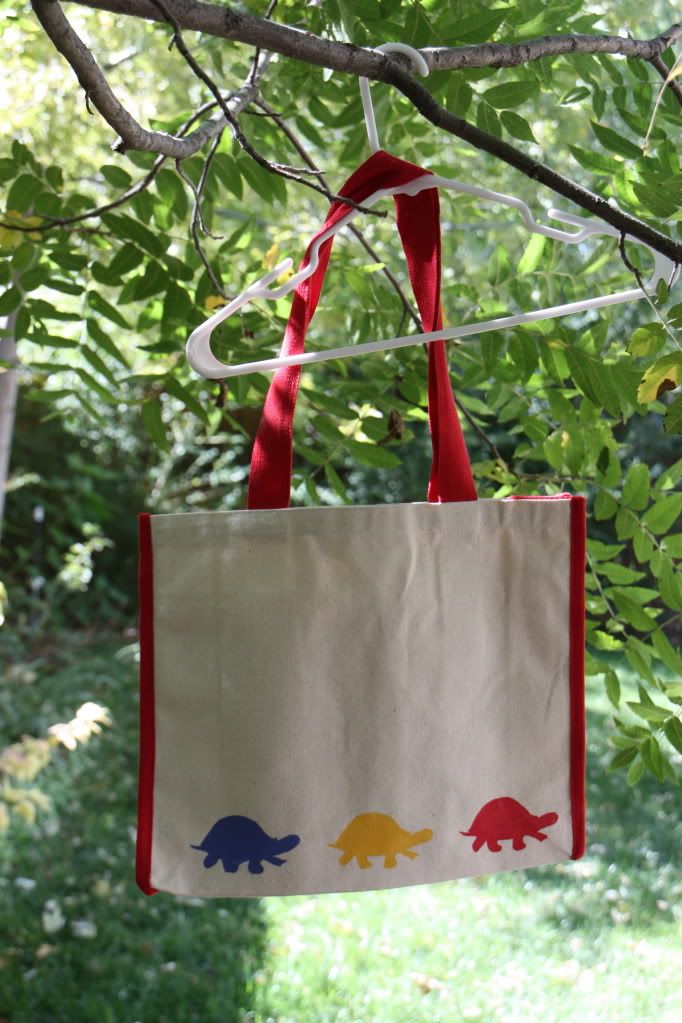 Last week, I made going away gifts for two little friends who will be moving before the year ends. I decided on books and bookbags. (Books and handmade things are the best gifts!) I love these girls. They combine girlyness with their own unique outdoorsy interests: turtles and frogs. I'll fill them with nature guides, coloring books, and new crayons before gifting them.
The turtle bag is my favorite. I like its graphics the best, especially the one big box turtle on the front.
My daughter thinks we should put the girls' names on their bags. I'm undecided. I think it would be cute, but I know putting children's names on view is considered a safety risk. What do you think?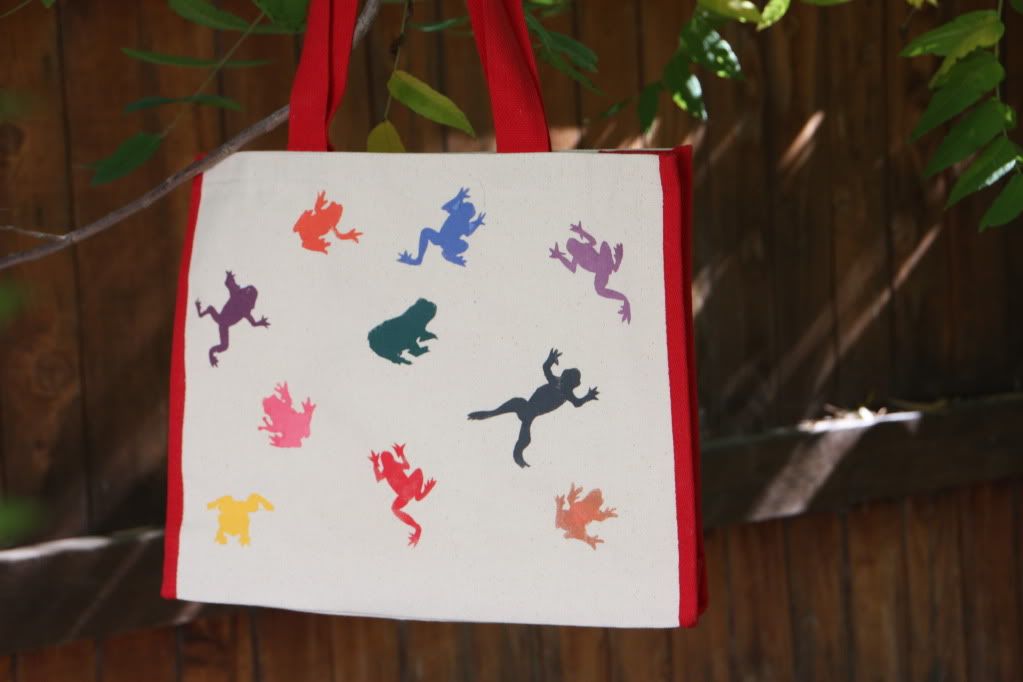 My daughter helped paint the frogs.
She claims to be "not good" with colour, but I think she did well.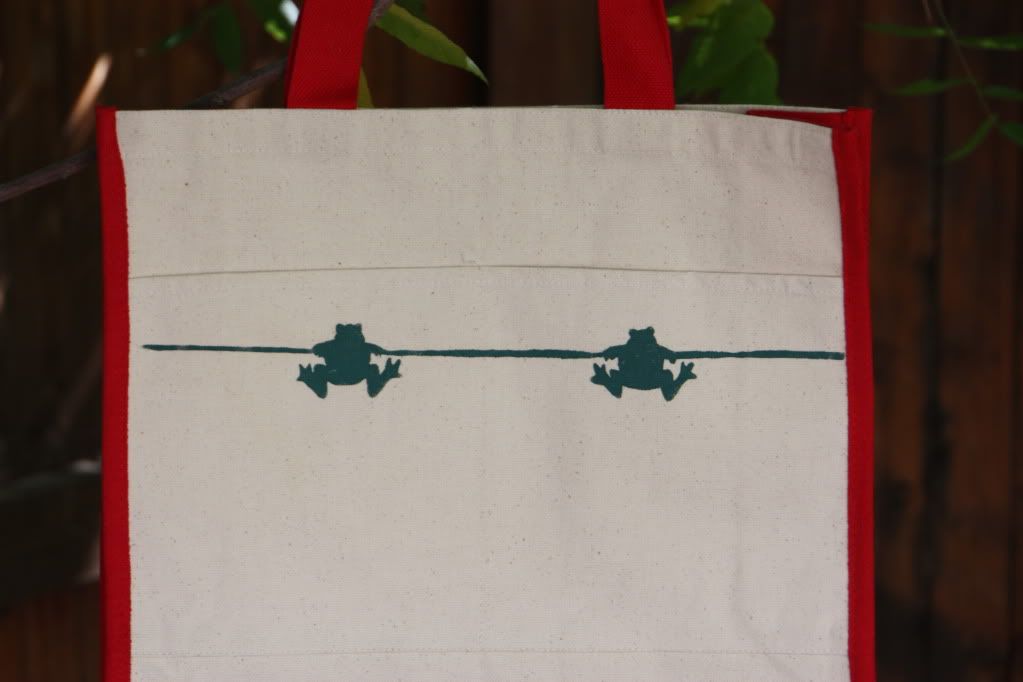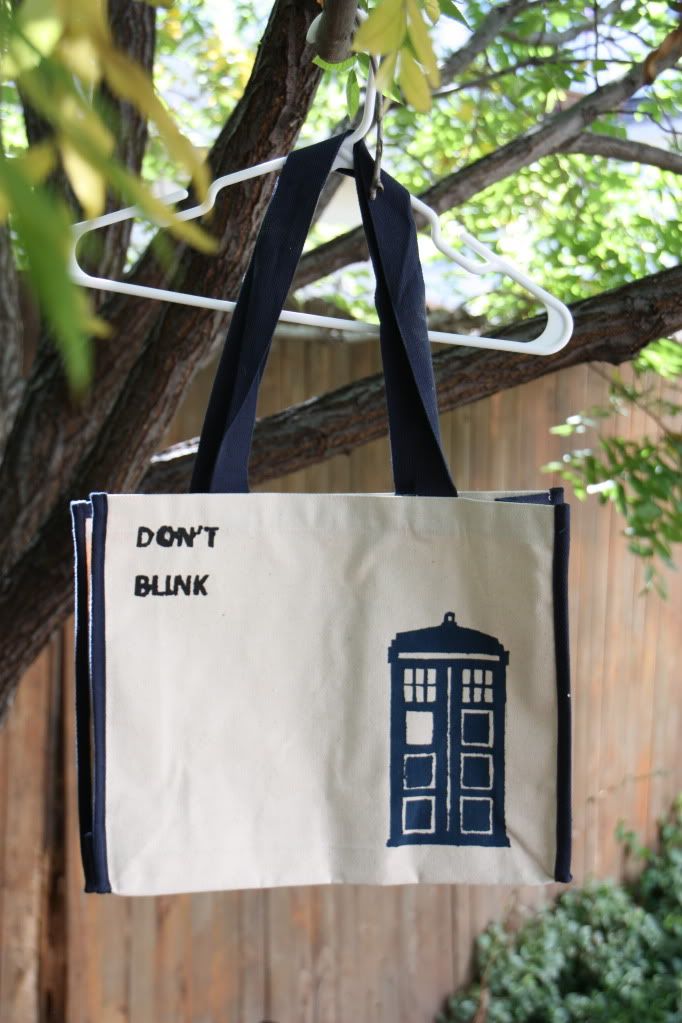 Since I was already spending hours cutting stencils, I decided my daughter and I should make Doctor Who bags. It's our favorite show.
I painted my Doctor Who bag before the turtle and frog bags. I'm glad I did, because I learned that the canvas needed higher heat and more pressure to get good adhesion. I learned this by having the fabric paint bleed through my carefully cut out stencils.
I think BLINK looks like BLLNK, which makes no sense, but my son assures me that Doctor Who fans would read blink anyway. Oh well, I'll still use it to tote my books to and from the library, and I am very glad that I thought to paint my own bag first rather than messing up one of the gifts.
Those are incredibly frightening weeping angels on the back.
My daughter painted them while I traced additional stencils for her.
My daughter designed her own Dr. Who bag. I think she did a great job, and so does everyone who has seen it.
As you can see, she used more variety, both in motifs and colour. She especially likes the pop art look of the two Time Lords image. In person, they are easily recognizable as the Doctor and the Master.
It all makes sense if you watch Doctor Who. If not, well, you could give it a try.
We used the same freezer paper stencil technique I mentioned
here
. If you can trace, cut, and iron, you can do this.
I bought these bags on clearance at HobbyLobby for $4. They are nice and big, with flat bottoms and two pockets on one side. I'm tempted to go back and see if there are any left, and make more as gifts.