I love my "new" laundry room/mud room/pantry. Seriously, every time I leave or come home, I am instantly happy with how this room turned out. It's the pass-through from the garage to the rest of the house, so it gets a lot of traffic.
We bought this wardrobe at IKEA to replace both the closet and pantry shelves my husband knocked down. It fits perfectly in the space, and holds so much! It was our biggest expense, but worth it.
Why would I want a closet removed? Because it was so close to the washer/dryer that I had to stand to the side to open their doors, and was constantly backing into it while moving laundry from one machine to the other. That's why.
I did not take before photos, because I knew I had taken photos of every room in my house a few years ago. When I went to look for them yesterday, the entire program was missing from that computer. So you'll have to settle for my descriptions of the before. Sorry.
Open shelving, in an L shape hung on part of the wall where the wardrobe now stands, and on part of the wall where you see Trixie's little bed. Open shelving looks chic in magazines where pretty glass jars of pasta and coffee sit neatly. Shelves of cereal boxes, chips, and tuna cans looks sloppy. Add school books and art supplies, and it is a disaster zone.
Worse were all the shoes that I would trip over to get to the cereal. My family likes to keep their shoes near the door, and keeping them tidy was a source of daily conflict.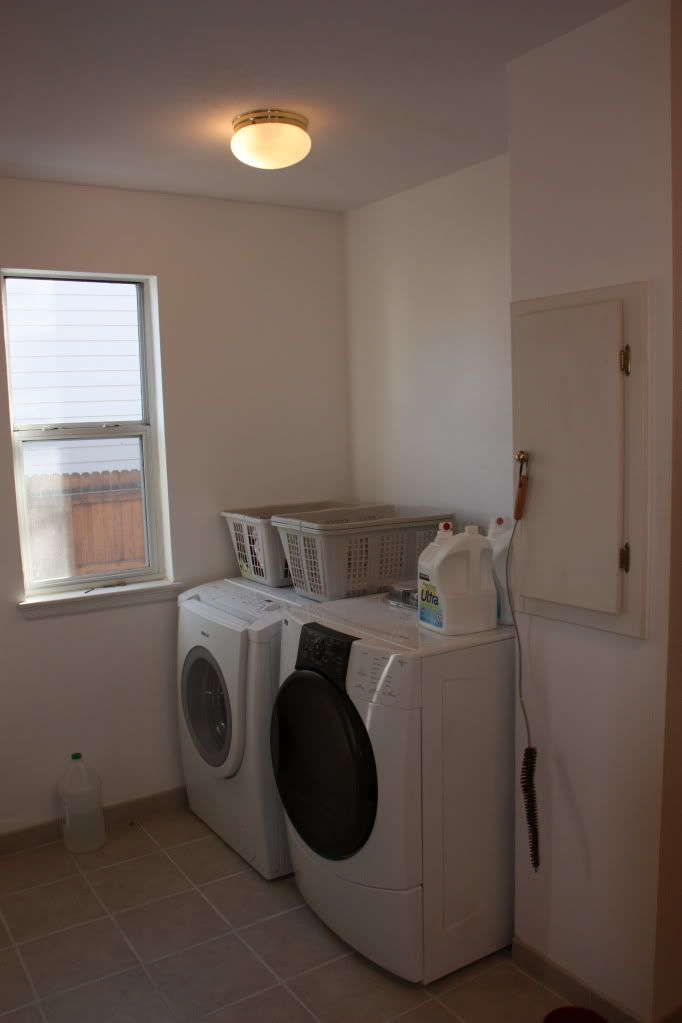 The floor used to be sheet vinyl that was peeling up, scratched, and stained. Now it is nice, clean ceramic tile.
Above the washer and dryer there used to be a shelf with mismatched old kitchen cabinets sitting on it. And a lot of goo from laundry detergent. I would like to put a new cabinet there, one that fits properly, but haven't found one in my price range yet.
That small door is my daughter's laundry chute, in case you were wondering. I say it is hers, because she is the only one who uses it. The rest of us have hampers.
While I'm explaining things, the bottle on the floor is white vinegar. I use it instead of fabric softener, and also use it to prop the washer door open when it is not being used. Front loaders tend to get stinky if you don't.
Oh, Trixie's bed - we leave Trixie in the laundry room when we are all out of the house for any length of time. She is accident prone if unattended.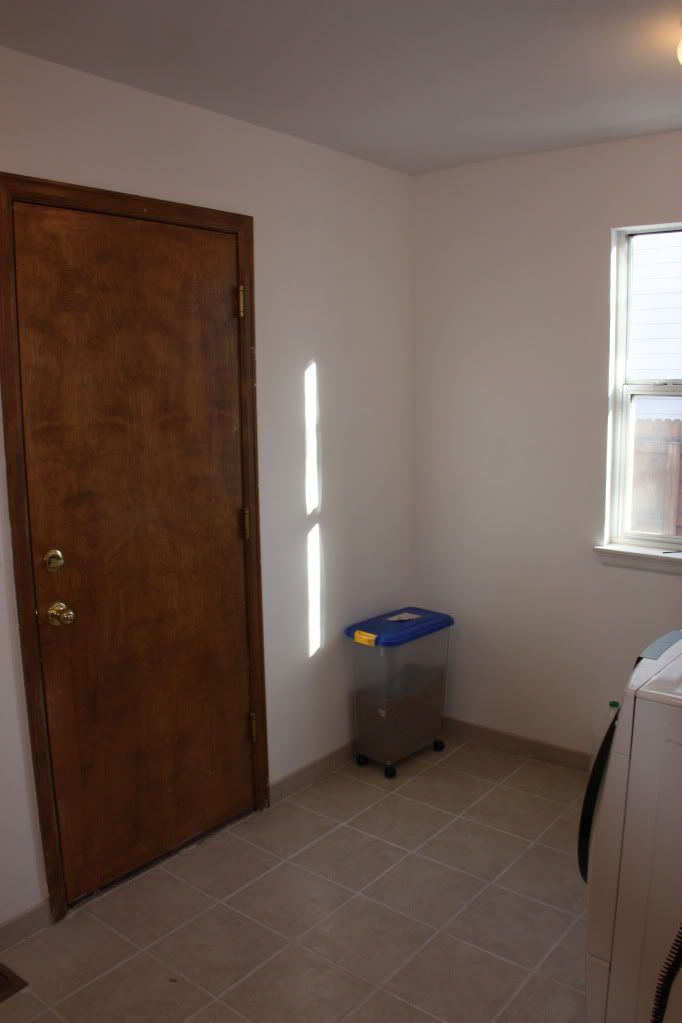 An unexpected benefit of removing that closet, which reached almost to the window sill you see here, is that the whole room is brighter. A fresh coat of white paint helped, too.
Other than a cabinet for over the laundry, the room is done. I'd like to hang something on the wall about where Trixie's bed is, directly opposite the door into the family room/kitchen. If I find something, or make something, I'll let you know.
I've thought about putting an extendable drying rack where the closet used to be, over the dog food container. I'm as yet undecided about that, though. It would be nice for hats and gloves when it snows, but I'd still hang my clothes to dry in my bathroom.
I consider those last things decorating decisions, not remodeling ones. So in my mind, the room is done enough to show it off.