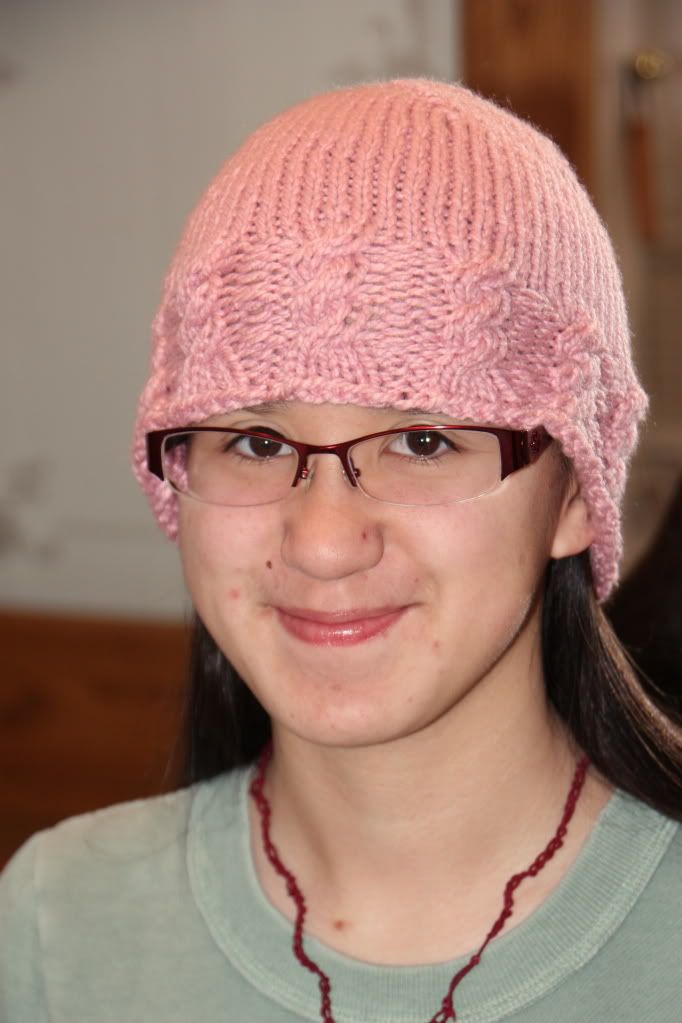 The chemo hat project dovetails nicely with another knitting goal of mine: down stashing. I don't hoard yarns, but I do have a couple drawers full of odd balls, mostly skeins and partial skeins left over from previous projects. For the chemo hats, I've decided to knit every soft enough yarn I have before buying anything new.
This pink Bernat Softee Chunky was a partial skein. I'd knit a ponytail hat from it for my daughter a couple years ago. I didn't know if there was enough left for another hat, so decided to knit it from the crown down. That way, I could do the brim/cuff in a contrasting yarn. When I realized I wasn't going to run out of yarn, I knit three cable twists instead. I call this one "Just Enough is Plenty."
I'll definitely use this improvisational method again. It was so nice to just pick up the yarn and knit, not having to follow a pattern. I don't swatch for most things, so I just based my calculations on the ball band gauge and by eyeballing it.
The Fuzz Fez was knit from my last skein of Lion Brand Fun Fur. I'd bought several of these years ago at the Dollar Tree. I knit most of it into a bunch of scarves for little girls, but this one remained. When I found the
'No-Hair Day' Chemo Cap
pattern, it was destiny. It reminds me of a hat or bathing cap from the 60's.