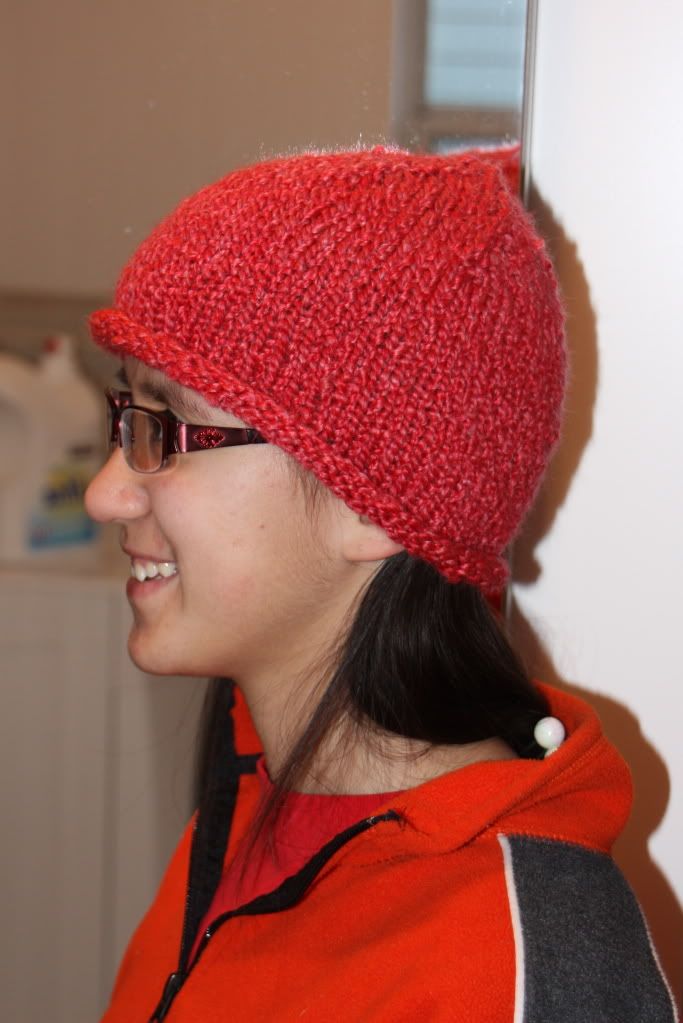 Spiral decreases
I knit three hats last week from two remnant skeins of Lion Brand Homespun. The two red ones are slightly different. The one pictured above and to the right is a roll brim, with spiral decreases at the crown. The decreases are hard to see in the Homespun. In a less textured yarn, the spiral is obvious. This is probably the easiest hat ever to knit. In a different yarn, it was the first hat I ever knit, and I still wear that hat. I wore it today in fact. Don't you love basic, classic styles?
The red hat pictured below is very similar. When I was photographing these this evening my husband thought they were identical. Close, but no. This one has a short ribbed brim and concentric decreases. I like those decreases better in this chunky weight. The crown is less pointy at top because you can decrease over less rows. In worsted and lighter weights, I've never had the spiral decreases result in pointy crowns, so I am assuming it's due to the thicker yarn. I won't do another spiral decrease on bulky yarn.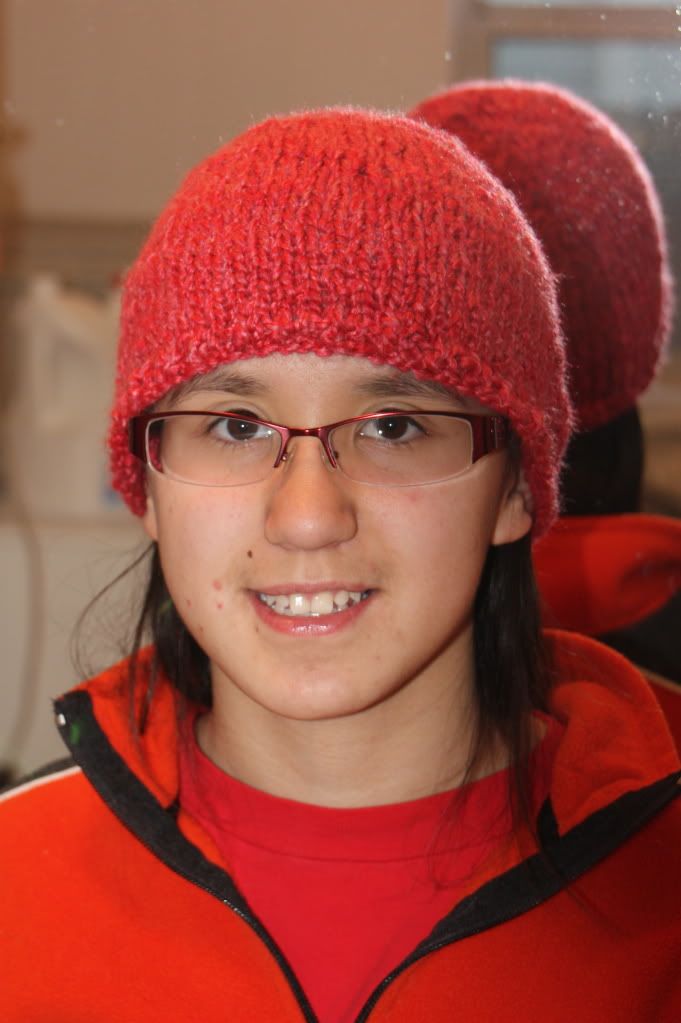 The red yarn was left from a sweater I knit my daughter several years ago. The purple, I have no idea how that entered the house. I've never made anything with it, and it was less than a half skein. I'm going to guess that it was given to me by someone destashing yarns they did not want.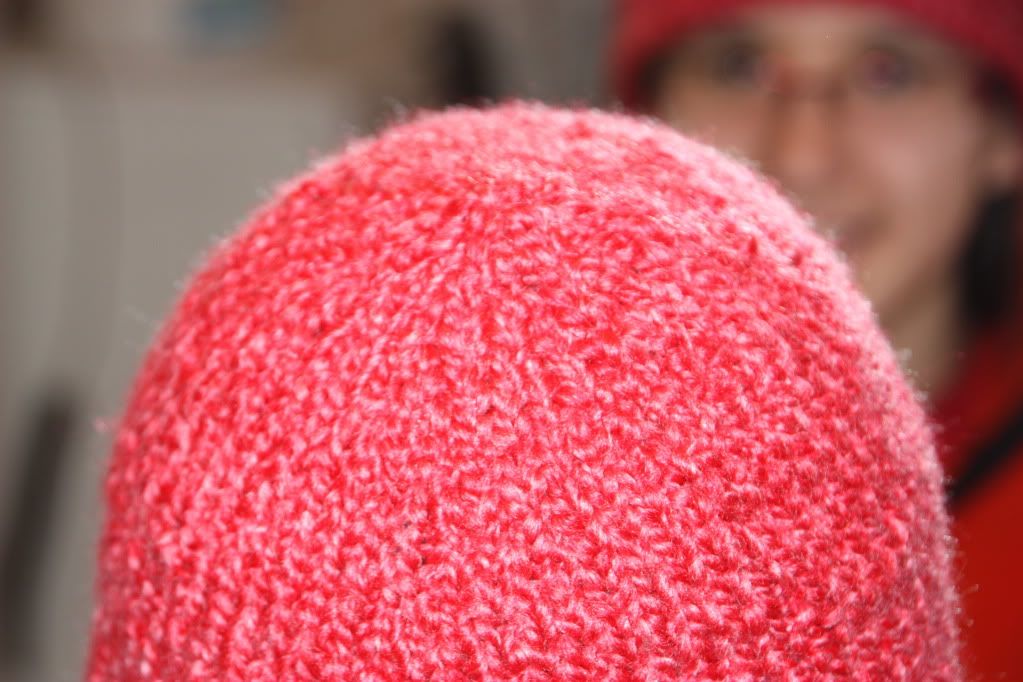 Concentric decreases, more rounded crown.
Although I've pictured it last, the purple hat is the first one I knit from the Homespun yarn.
The pattern
is offered free from Lion Brand. The chemo hats I'd knit from other yarns all turned out slightly bigger than I'd anticipated, so I thought I'd make this one smaller than the pattern specified. So I cast on 54 instead of 60 stitches. (I think I've mentioned before that I rarely swatch.)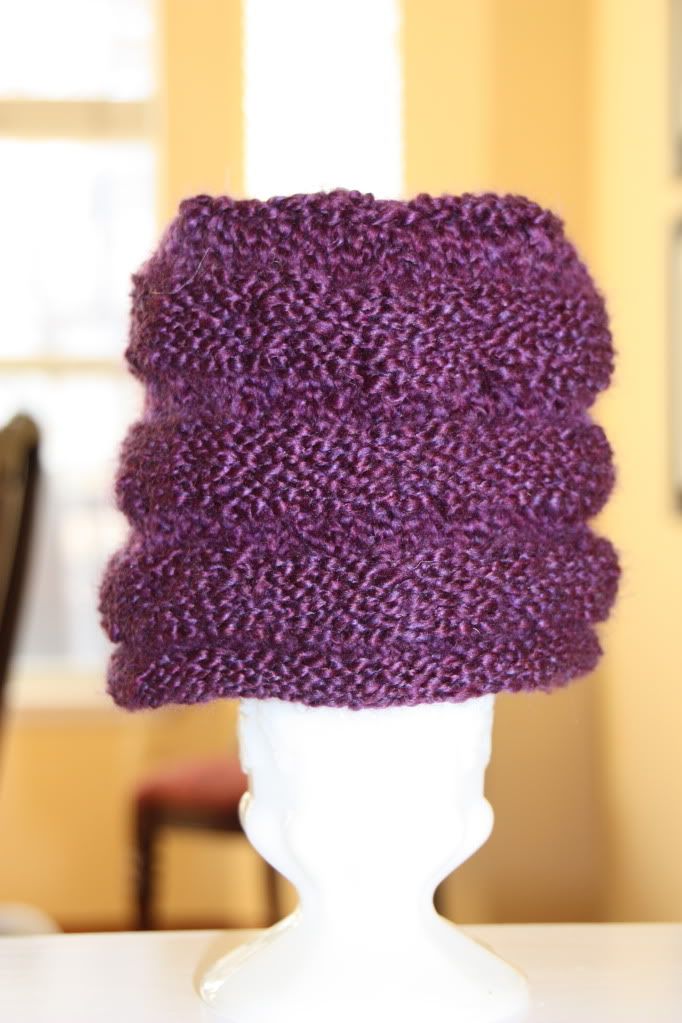 Mistake! It turned out child sized. My daughter couldn't even get it on her head. The edge was way too tight. I thought about frogging it and making it bigger, but decided against it. Children, sadly, are in need of chemo caps, too, and some little girl might love this purple hat. I wish I had a child handy to model it, because it really is cuter than it appears plopped on my vase.
Now I've only tiny balls of Homespun left, not enough for another hat or anything else. They're back in the yarn wagon. If, after knitting up all my soft stash yarns, I buy more Homespun for future chemo hats, I can use them for contrasting brims or stripes or something. I probably will, too, because a lot of people like the softness of this yarn.