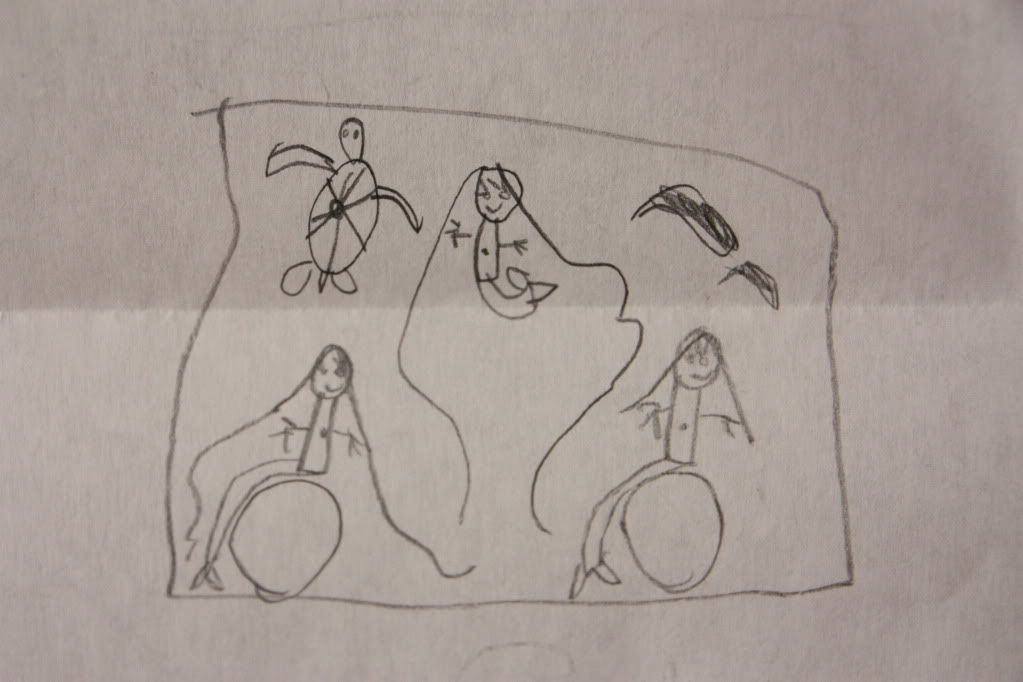 One of my little friends wrote me a letter, which included this drawing. Turtles are her favorite animal, so she has drawn me many of those, but the mermaids were new. And inspiring. As soon as I saw her lovely artwork, I began thinking about making her a playset based on it.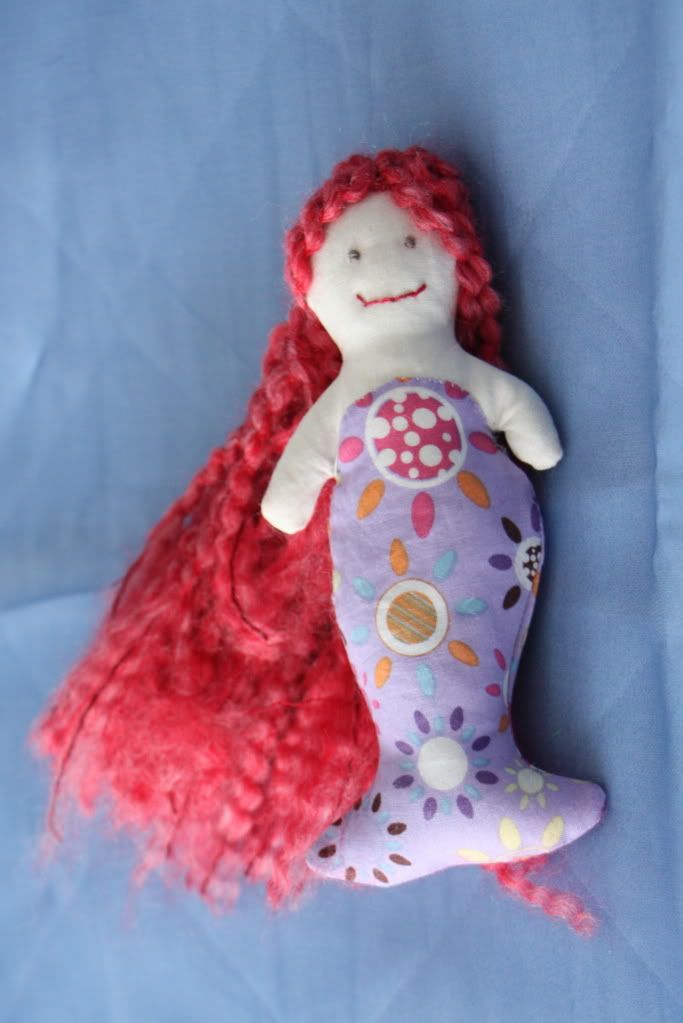 I searched online, and found the
mermaiden pattern
from Wee Wonderfuls. I'd looked at this book before, and not liked the style of the dolls. They are very anime influenced in their features, which seems very popular these days, but I prefer eyes not be located on cheeks and heads not be wider than torsos. However, the size (about 7 inches tall) was what I wanted. So I printed it out.
I trimmed a bit of width off the head and began tracing the pattern. I quickly discovered that my cutting and sewing skills were not up to par for this pattern. As written, the pattern uses four layers of fins and bit of quilting and lining things up just so. After a frustrating couple of hours, I abandoned the instructions and simplified the assembly.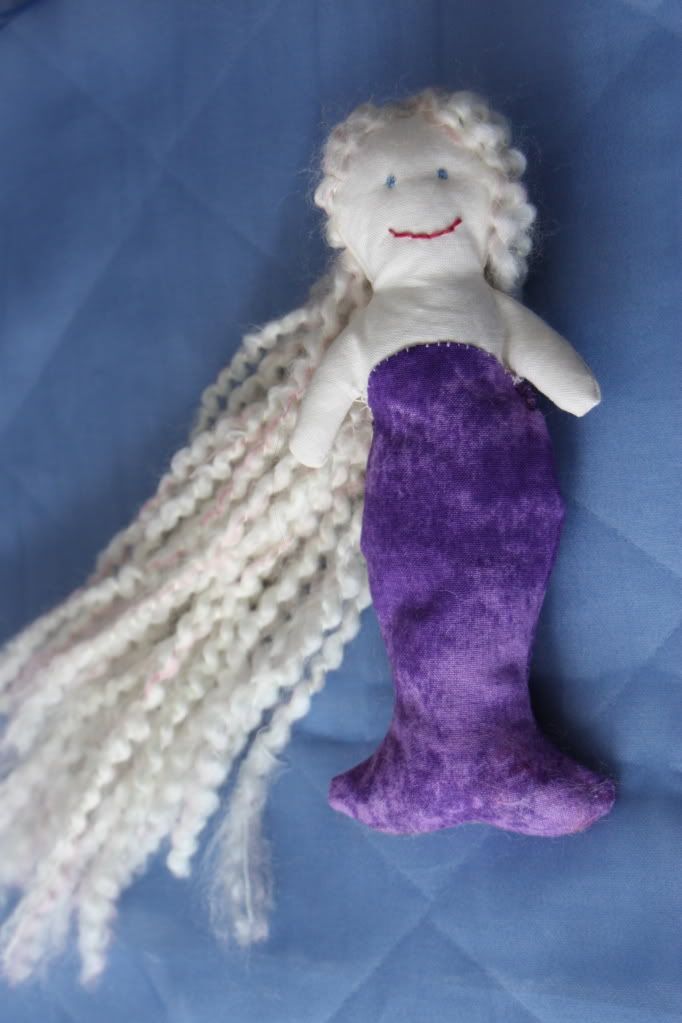 The Wee Wonderfuls pattern uses a solid piece of corduroy or velvet for the hair, but the mermaids in my inspiration drawing have long flowing hair. I used scraps of Lion Brand Homespun for hair that looks rather seaweed-y.
I cut pieces in two lengths, one twice as long as the other, then ran them through the sewing machine to make little wig pieces. The shorter piece I sewed at one edge, then an inch lower. It was sewn on the back of the head, at the neckline and almost at the top seam. The longer section was machine sewn in the middle. That seam was placed at the top seam of the mermaid's head. The hair that fell in back was lightly sewn in place. The hair that fell in front, I pulled to each side and tacked down.
I'm very happy with the hair. I told my husband that the mermaids are like Hollywood starlets who lack any natural gift beyond having fabulous hair.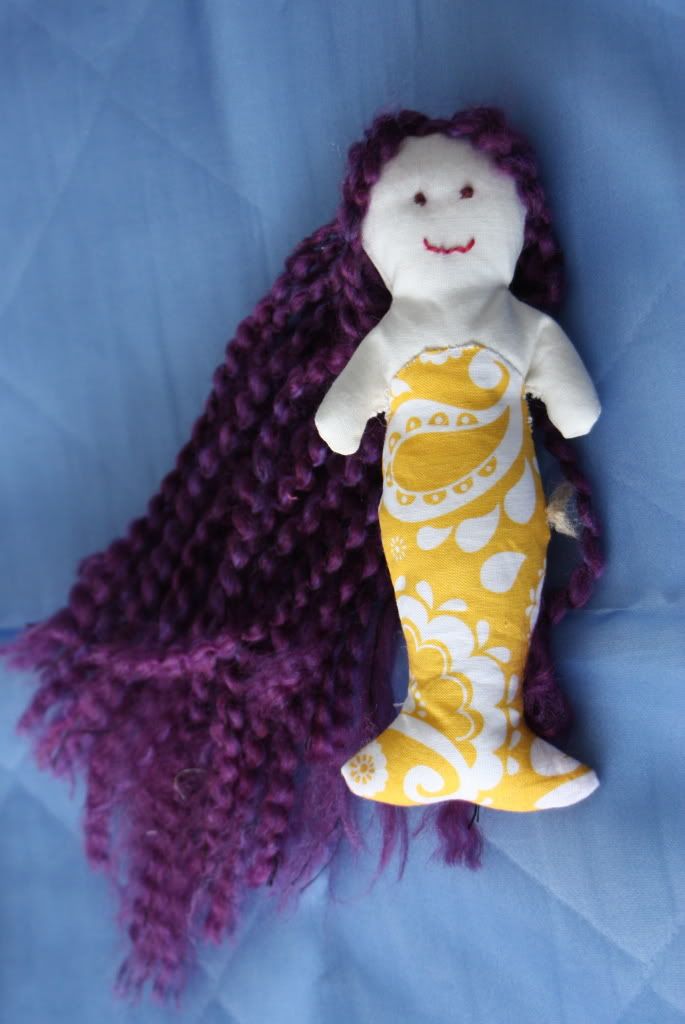 As you can see, I put the eyes in their usual spots. It's hard to tell in the photos, but they have different eye colors: brown, blue, and gray-green.
I think these would be quick little projects for people who sew well or regularly, but they took me all day.
The following day, I made the sea turtle. Originally, I was going to knit a turtle, because although it might be slower than sewing, I find it less frustrating. After finishing the upper shell, though, I decided that the knit looked too heavy and dark next to the happy mermaids. So I searched my scraps for happy turtle colors.
I did not use a pattern. I drew a turtle and cut out the pieces. For the shell, I lined the top with a piece of interfacing/batting and sewed swirlies on it in different colors, to make it look more under-water-y. I think I could have skipped the batting. It took a few tries and a lot of seam ripping, but I think he looks friendly.
Here is the turtle with one of the mermaids. My husband said the turtle should be large enough for a mermaid to ride on its back, so that was my aim.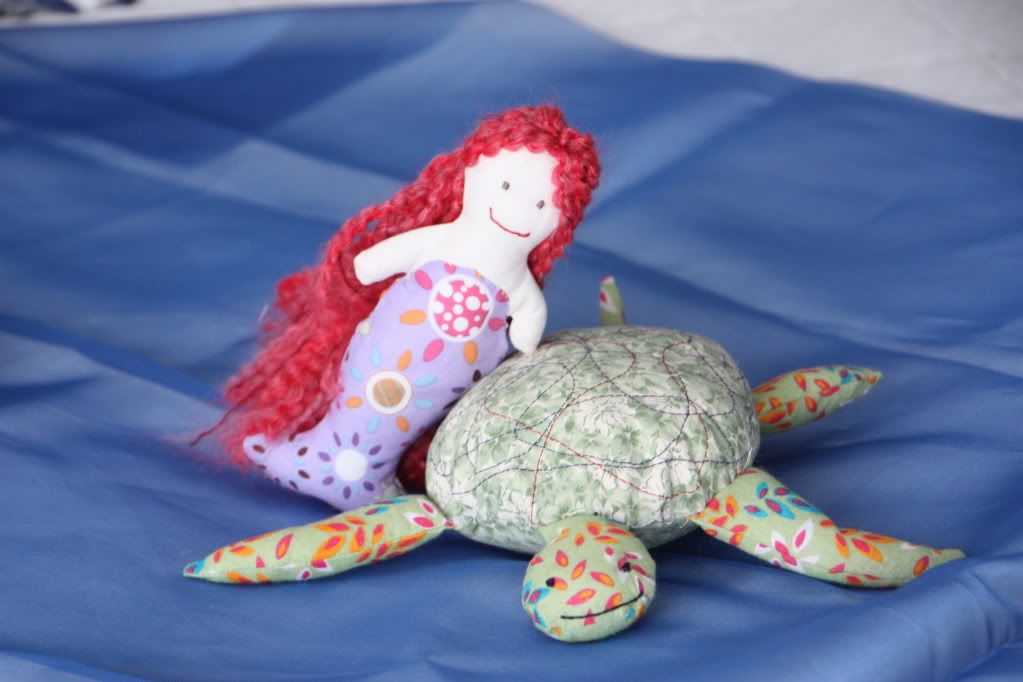 When I was finished with the turtle, I decided I should make a bag to keep the playset in. (So much less likely to lose pieces when they have their own home.) Then I discovered I still had this blue shiny sheer fabric, and added it to the bag to use as ocean. I think my friend will LOVE seeing her drawing come to "life" this way.
I wish I could be there to see her face when she opens the bag!