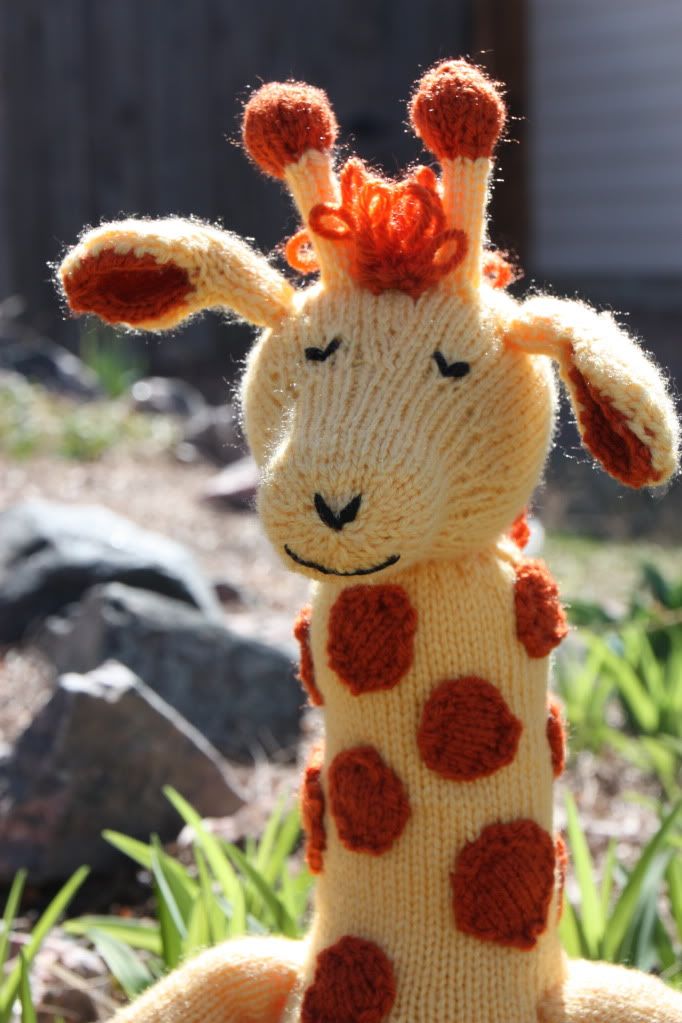 Ione and Belisarius have a new friend: Gwendolyn. I named her for Wallace's yarn shop owning love interest in Wallace and Gromit: A Close Shave. It has nothing to do with giraffes, but the name suits her.
Gwendolyn, like Ione, is from Susan B. Anderson's Itty Bitty Toys. (She is far from itty-bitty, though, standing, if she could stand, almost two feet tall.) The patterns are so well written, and adorable, that I bought the book after checking it out the third time from the library. I plan to make a few more of the toys in it, but right now, it is on loan to a friend.
I made a few modifications to the giraffe pattern, and, now that I am done, I wish I'd made one more.
I doubled the length of the neck, and made it slightly thicker so it would not flop over with the additional length. Then I had to make the snout longer to stay in proportion with the neck. All easy adjustments. The pattern as written, in my opinion, has a too short neck. It makes a giraffe that looks more like a baby, but even baby giraffe's have long necks.
I also added more spots. Lots more spots. The pattern only placed spots on the back. None on the front, none on the neck. If Gwendolyn didn't have such an elegantly long neck, it would not need spots, but her neck looked too bare without them. And her belly looked too bare beneath her spotted neck. So lots more spots were made.
I used almost a full skein of yarn making all those spots and the mane. (Vanna's Choice. It had exactly the yellow and orange I wanted. The yellow is Duckie from the baby line; the orange is Terracotta. I used two yellow, one orange.)
The spots are the one thing I wish I had done differently. I do not like the texture of them. They are knit separately, then sewn on. After finishing her, I saw a project on Ravelry where the spots had been knit into the body, with more of a natural giraffe pattern. I love the way that looks - so much neater and smoother than the applied dots. I wish I'd thought of that for Gwendolyn. If I ever make another giraffe, I will knit the body and neck with stranded colour work.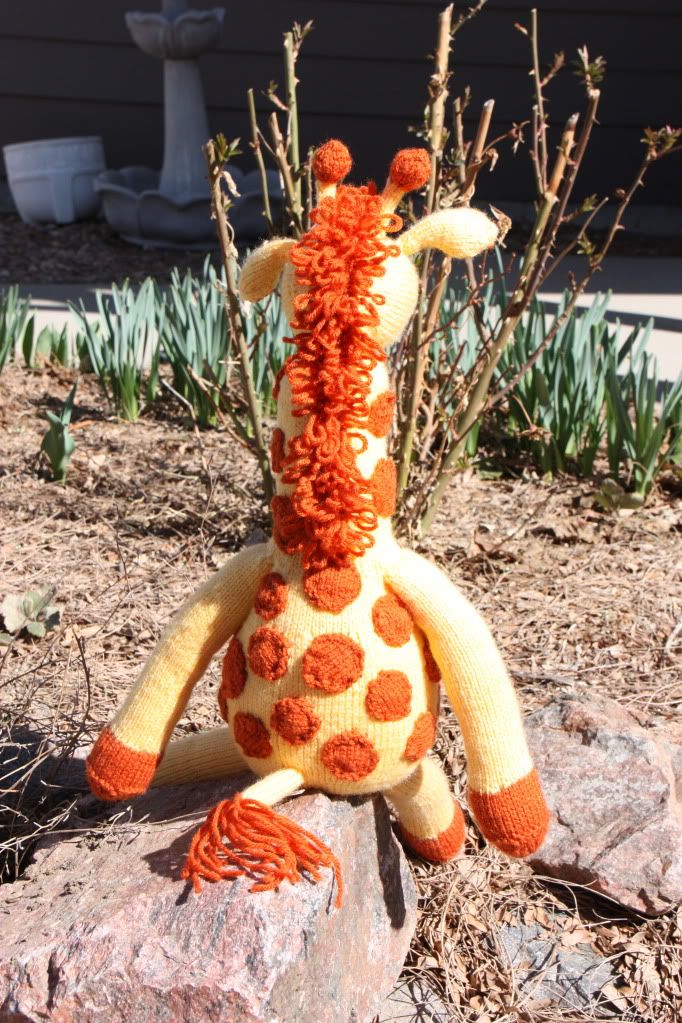 The other modification I made was the mane. Susan B. Anderson's giraffe had a row of adorable pom-poms for a man. The tail and antlers were also topped with pom-poms. I suck at making pom-poms. They never look even, and trimming them makes them worse. Then, too, pom-poms pull apart easily, and babies play with my toys. So pom-poms were out.
I saw a crocheted loopy mane on Ravelry, and decided to do that. This was a challenge for me because I've never crocheted anything before. I watched a few youtube videos to learn how to crochet. The first thing I learned was that my fingers have been knitting so long that they are resistant to holding the yarn a new way. It was ridiculous how many times I had to start over. In the end, I gave up on holding the yarn like the youtube lady, and decided that if the mane wasn't coming apart, it was good enough.
The mane is my favorite part of Gwendolyn! When I make a lion (which, I will, because what is a safari without a lion?), I will make it a loopy mane, too, but longer loops.