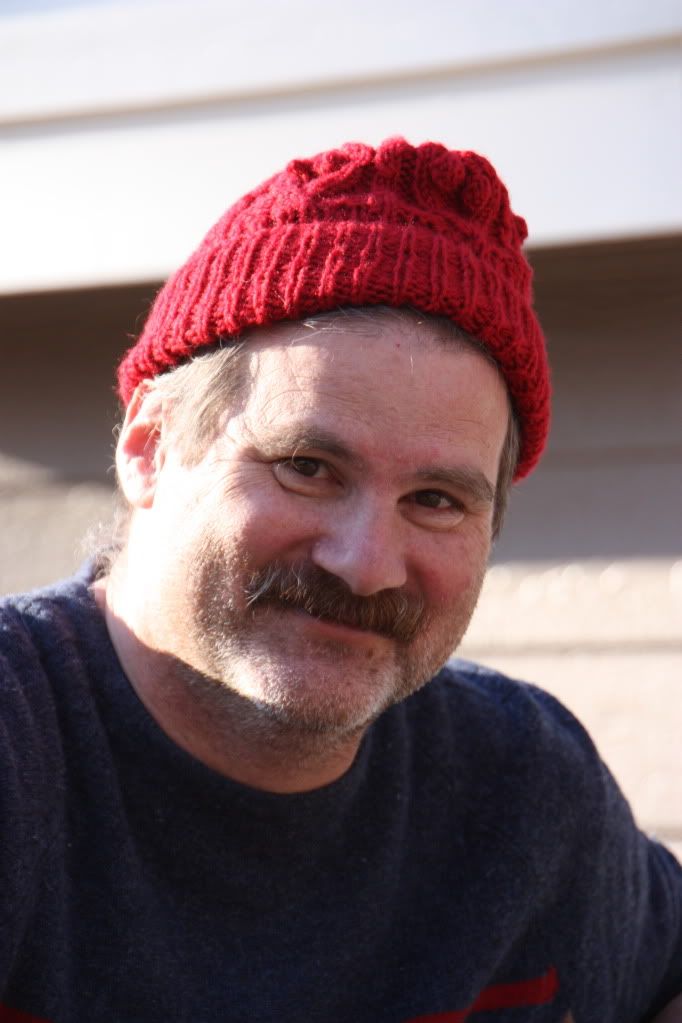 I know I've mentioned before that I watch Doctor Who. Four out of five of my family members are fans. The fifth lives out of state, so we cannot easily share our enthusiasm for the Doctor. We do mention it to him, and various other relatives, but none of them have watched it yet. I know if/when they do, they will become fans. (Note to my sister: it would probably scare the little one, but I think my godchild would like it.)
Some of us are bigger fans than others. Some of us may even slip into super geeky fandom, making ourselves tote bags featuring the Tardis and angels and daleks and things.
Or knitting hats based on characters in the show.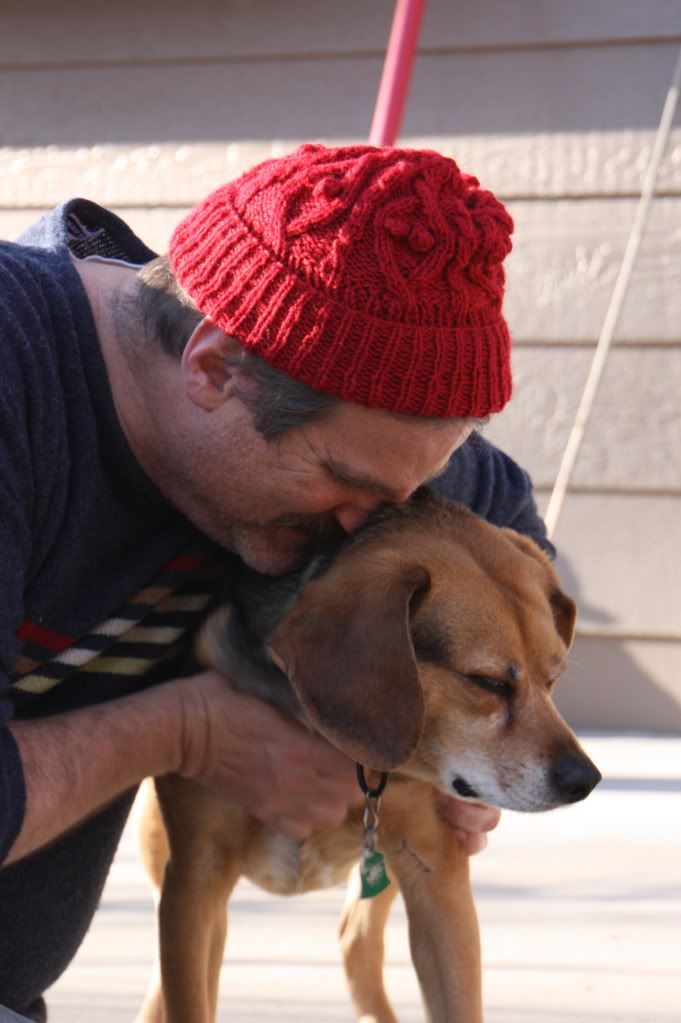 Ack! As soon as I saw this pattern, I knew I would knit it. It is a replica of the hat that Wilf wore in the End of Time episodes. Wilf!! I love Wilf. Donna has been my favorite companion, and Wilf is the grandpa everyone would want. I just loved him. And I love my husband, so that obviously meant he needed a Wilf hat.
When I found this red yarn (Ella Rae, Amity) at Tuesday Morning on, well, Tuesday Morning, I was set. And it was knit. My husband didn't really think he needed a new hat, but he is such a good sport, that he accepted it anyway.
I had him wear it like Wilf did, high on his head, but here is a last shot to show you that it really could cover his ears. The pattern, Wilf's hat, was free on Ravelry. The designer, Patti S, created it based on screen shots of Wilf. I am appreciative of that. I don't think I have that kind of skill. However, the cable chart was rather off. I could see what she meant, and it was not difficult to knit, but I would not recommend it for a first project with cables.
Now that I've finished it, and see it on my husband, I wish I had made a few more changes. I think it would be better if the cables started lower, instead of having such long ribbing. Then you wouldn't need to fold it as precisely.
Or I wouldn't, as I wore this hat a bit today. My husband shares nicely as well as indulging my geekiness and looking good in handknits.
I thought you might want to see Wilf, too, so here he is: