I used the same yarn for Belisarius that I had for Ione - Hobby Lobby's Sweet Delight Twists. Different colors, I had one skein of each left from baby sweaters I'd knit. Ione was knit on size 4 needles, Belisarius on size 5's. That made him slightly bigger. If I'd not already knit Ione, and wanted him to be beefier, I would have knit on 4's, because I like the tighter knit for stuffed animals.
The body, head, and legs are knit as directed in the hippo pattern. Ione's legs are longer, because I knit them longer than the pattern specified. She is a water ballerina, after all. The heads look different because I rotated the head for the rhino. Instead of the kitchener bind off creating the horizontal line for the mouth, it is vertical, with the large horn emerging from it. I also smooshed and pulled the shape a bit while stuffing to get it to look like I wanted and attached it further to the front of the body.
I wanted stronger arms for my rhino warrior, so I cast on 21 stitches, 3 more than called for in the hippo pattern, and 3 less than used for the legs. I knit them as instructed, decreasing an extra stitch on the various decrease rounds.
The rhino tail is 12 sts, knit to desired length, with fringe looped inside before binding off. Belisarius has a two inch long tail.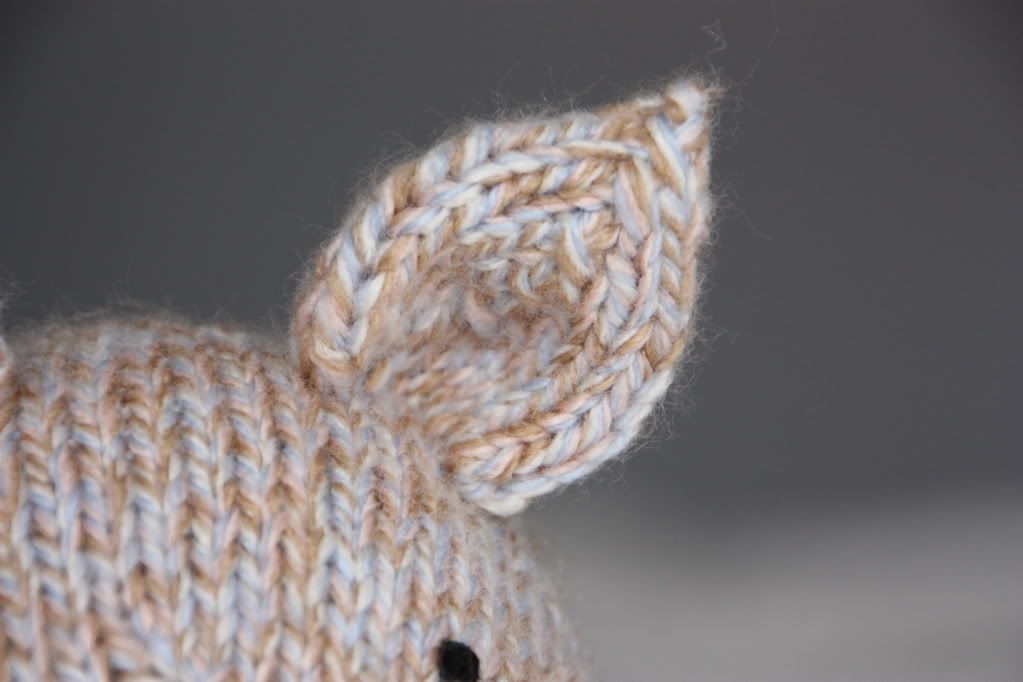 ear, front
For the ears, I cast on 22 sts, 11 on each needle. I worked them in the round, but holding two needles flat against each other. The decreases are different for the front and back of the ear. The semicolon in the instructions indicate where the needle change is.
CO 22 sts
K3 rows
row 4: K4 (sl1, k2tog, psso) K4; k1, (sl1, k1, psso), k5, k2tog, k1
row 5 and 6: knit
row 7: k3 (sl1, k2tog, psso) k3; k1, (sl1, k1, psso), k3, k2tog, k1
row 8: knit
ear, back
row 9: k2 (sl1, k2tog, psso) k2; k1, (sl1, k1, psso), k1, k2tog, k1
row 10: knit
row 11: k1, (sl1, k2tog, psso), k1 - twice - same on both sides
row 12: sl1, k2tog, psso, k1 - twice - same on both sides
row 13 - cut yarn, thread through both stitches, pull tight. When you tuck the yarn inside, don't pull so hard that you lose the point on the top of the ear.
When you sew the ears in place, fold them into a U shape. Do not stuff them.
The small horn:
CO 12 sts and knit in round for an inch.
Decrease row: k1, k2tog around
knit 1 row
decrease row: k2tog around
Break yarn, thread through remaining 3 sts. Again, keep the point. Stuff with fluff.
The big horn:
CO 18 sts, join in round
knit 8 rows
Work a couple short rows to create a bend. I knit back and forth over 12 sts, four short rows, ie, 2 turns on either end.
knit in round 4 rows.
Decrease: k1, k2tog around
knit 1 row
k2tog around
knit 1 row
k2tog around
Break yarn, draw through remaining sts. Once again, pointy end.
I knit and sewed the large horn in place first, positioning it to cover the less tidy end of the kitchener stitch on the head. Then I placed the smaller horn above that.
That's it! Give your rhino eyes and a mouth and done! If you make a rhino, I'd love to see him/her. Either here or on Ravelry.